Our company marks this important achievement and celebrates its first 20 years by unveiling a new graphic image.
On this day, Friday 8th May 2020, Alesco is celebrating 20 years of business.
Initially we were to mark the occasion in Geneva, at the Vitafoods Europe 2020, doing what we do best: presenting our trademarks and innovative products to the scientific community. Despite, the global COVID-19 emergency regrettably forcing us to postpone this important event until 2021, we are eager to share this significant achievement of 20 years on the market with our employees, partners and friends.
For those of you who are not familiar with our company history, Alesco Srl was founded in the year 2000, in Pisa, by the brothers Andrea and Roberto Lacorte, and Gianni Lazzarini. Their mission was to excel in the nutraceutical market by distributing primary materials of very high scientific value. Our core business focused initially on the distribution of active ingredients produced by third parties, but then, over the years, thanks to continual investment in research and development, Alesco began a process of producing its own innovative primary materials. Our scientific research concentrated specifically on the study of iron and minerals, until in 2010, we perfected our Sucrosomial® Technology, a unique and innovative delivery system, which in less than a decade has revolutionised the martial therapy sector and, more generally, that of mineral based dietary supplements. In 2016, the trademark Sideral® r.m. (Sucrosomial® iron) was elected 'Readers Ingredient of the Year' by the well-known and highly respected journal Nutraingredients.com and we have not stopped since then. We strive to improve our formulas and apply Sucrosomial® Technology not only to iron, but also to numerous other minerals such as magnesium, calcium, zinc, iodine and selenium.
Today, as in the beginning, we continue to produce and distribute cutting-edge and extremely efficient principle ingredients worldwide, with the same enthusiasm, passion and professionalism that has always characterised our business.
"If I look back over these last 20 years, we have a lot to be proud of", commented Gianni Lazzarini, co-founder and Chairman of Alesco Srl. "When we started, we didn't have a penny; what we did have, however, was a clear view of how we wanted to achieve our project. Our first great success was at Vitafoods 2016, when we won first prize for innovative product of the year. At the time – and indeed still now – we really were a micro-reality compared to the multinationals operating in this sector, but this award helped us see that thanks to the commitment of the whole team, we had brought something of significant importance to nutraceuticals".
Turning to the future, what can we expect from Alesco over the next few years?
Lazzarini is in no doubt, "our technology will take us a long way". The company mission is to successfully apply Sucrosomial® Technology to an ever increasing number of elements. Not just minerals, but also vitamins and phytoextracts, improving tolerance, bioavailability and absorption of these nutrients, whose role will become more central to the pharmaceutical and nutraceutical markets. And it does not stop there because, recently, new opportunities are beginning to open for Alesco in the food and cosmetic sectors, too.
"We have also been developing other types of delivery systems for our minerals, but more than this, at the moment we are concentrating on phytoextracts and vitamins, which may represent Alesco's near future", concludes Andrea Lacorte, co-founder and CEO of Alesco. "Companies are unwaning in their search for innovative, unique primary materials that will enable them to offer the market something new. This is why, first and foremost, our objective is to succeed in applying our technology to as many components as possible, thus giving even more scientific value to our products in terms of quality and effectiveness".
So, what better occasion could there be than this twentieth birthday to officially present Alesco's new graphic identity?
Our brand restyling, entrusted to communications agency Calabughi Srl, represents the development of a new project, whose main goal is to convey the technological innovation that lies at the base of our company mission.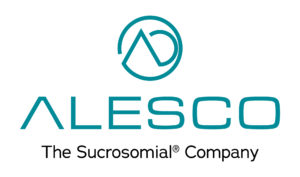 The symbol that was originally at the centre of the pictogram, has been eliminated to favour a new distinctive graphic element: a circular line embracing the first and last initials of the company name. This line is generated by the first letter, just as primary materials are at the root of Alesco's work, and its evolution symbolises the generative strength given by the ingredients to the final product. The company name now has a new contemporary image that allows us to project business into the future. The new lettering also identifies the Pharmanutra group, of which Alesco has been a part since 2016. Lastly, our payoff, "The Sucrosomial® Company", is a direct reference to the technology that has made Alesco a leader in the nutraceutical sector of highly concentrated elements with high bioavailability.