UltraCal Sea is the only source of Sucrosomial® Calcium deriving from the red alga Lithothamnion Calcareum
UltraCal Sea is a compound containing Sucrosomial® Calcium with calcium carbonate derived from the red algae Lithothamnion Calcareum, that guarantees high absorption and excellent tolerability.
Calcium is a macro-element necessary for normal development and maintenance of bones, as well as for correct neuromuscular and cardiac function. Almost all the calcium contained in our body is stored in the teeth and bones.
Calcium deficiency is the main cause of development of osteoporosis, and intake in food is not always sufficient, as absorption through milk and milk-based products is around 20-30%. The recommended daily intake of calcium is 800 mg, but only around 30-35% is absorbed, showing a reduction if administered in doses above 500 mg. Calcium intake can also cause gastrointestinal problems, including stomach pains, constipation, bloating and flatulence.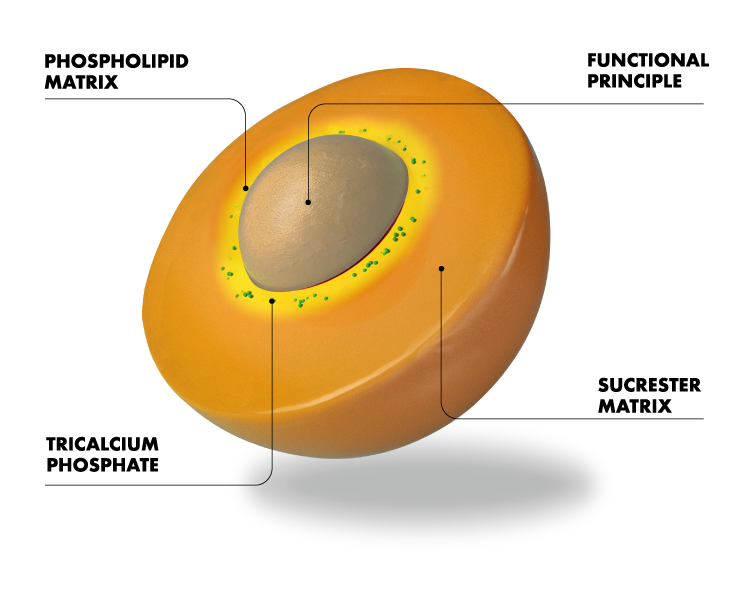 UltraCal Sea Sucrosomial® Calcium is a calcium carbonate salt (31% calcium) consisting of a phospholipid and sucrose ester matrix, which helps the calcium to pass through the gastric environment without interacting with the mucosa or with other nutrients; it does not irritate the intestinal mucosa, where it is absorbed and then released.
Find out more.
Health claims approved by the EFSA relating to calcium intake:
"Calcium is needed for the maintenance of normal bones"
"Calcium contributes to normal muscle function"
"Calcium is needed for the maintenance of normal teeth"
"Calcium contributes to normal blood clotting"
"Calcium contributes to normal energy-yielding metabolism"
"Calcium contributes to normal neurotransmission"
"Calcium contributes to the normal function of digestive enzymes"
"Calcium has a role in the process of cell division and specialisation"
Advantages
Applications

Excellent absorption and tolerability
Contains 31% calcium
Does not interfere with the absorption of other minerals
High palatability and neutral taste
100% plant origin
Suitable for vegans and vegetarians
Gluten-free
Lactose-free
GMO-free
GRAS certified by the FDA

Food supplements: tablets, capsules and sachets
Functional foods and drinks
Milk and dairy products