An exclusive formula of Sucrosomial® Iodine designed to ensure a correct intake of iodine
UltraIod is an innovative functional ingredient with Sucrosomial® Iodine containing Sodium Iodate (1% iodine), ensuring excellent absorption and a correct intake of iodine.
The recommended daily intake of iodine is 150 µg for adults and up to 200 µg during pregnancy and breast-feeding. After being absorbed by the small intestine, it is carried as iodide through plasma to the tissues, mainly the thyroid.
Iodine is an essential mineral for the synthesis of thyroid hormones, including thyroxine (T4) and triiodothyronine (T3). These hormones are responsible for a range of biological activities in the body, including thermogenesis, carbohydrate metabolism, (in fact they promote glycogenolysis and gluconeogenesis), protein synthesis through a trophic effect on the muscle and cardiovascular activity to increase myocardial contractility.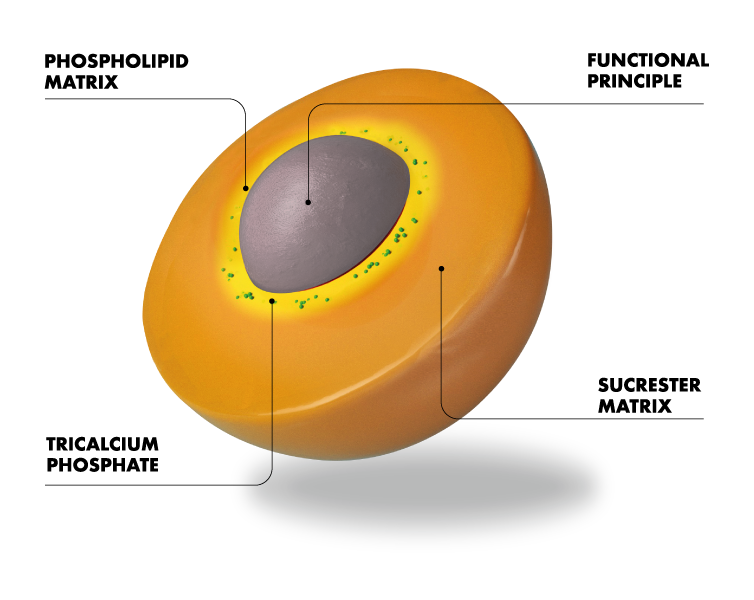 How do we turn common Sodium Iodate into Sucrosomial® Iodine?
Through a complex of phospholipids and sucrose esters of fatty acids called Sucrosome®. This complex wraps the Sodium Iodate molecule, which is normally poorly absorbed by the human body, protecting it from the acid gastric environment and making it easier to absorb in the intestine.
Find out more about the Sucrosomial® Technology.
Health claims approved by the EFSA relating to iodine intake:
"Iodine contributes to the normal production of thyroid hormones and normal thyroid function"
"Iodine contributes to normal cognitive function"
"Iodine contributes to normal functioning of the nervous system"
"Iodine contributes to normal energy-yielding metabolism"
"Iodine contributes to the maintenance of normal skin"
Advantages
Applications

Maximum absorption and tolerability
Contains 1% iodine
Excellent palatability
Does not interfere with the absorption of other minerals and nutrients
Suitable for vegans and vegetarians
Gluten-free
Lactose-free
GMO-free
GRAS certified

Food supplements: softgel, capsules, caps, tablets and sachets
Functional foods and drinks