UltraSel Sucrosomial® Selenium is the only selenium source that ensure maximum absorption and tolerability
UltraSel is a functional ingredient with Sucrosomial® Selenium containing Sodium Selenite, which ensures a high absorption of this micronutrient.
Selenium is an essential micronutrient for humans, concentrated mainly in the liver and thyroid gland. Its contents in the body vary from 3 to 30 mg, and it is present in both organic (selenium-cysteine and selenium-methionine) and inorganic form (selenites and selenates). Although the daily requirement of selenium is quite low (55 µg), it is a fundamental nutrient for supporting and maintaining the immune system. Selenium is fundamental for maintaining normal thyroid function and for hair and nail growth. Moreover, it contributes to the protection of cells from oxidative stress.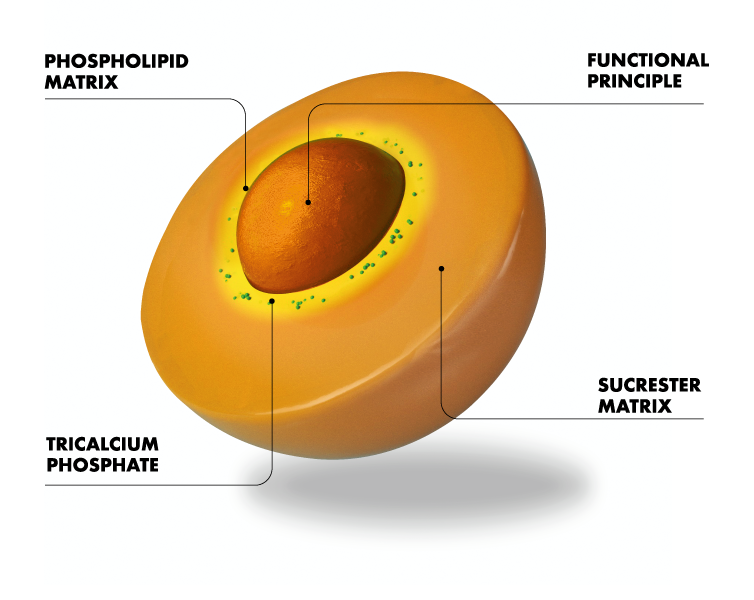 UltraSel Sucrosomial® Selenium is the only source of sodium selenite containing 0.3% selenium, ensuring excellent absorption thanks to the Sucrosomial® coating. Its complex of phospholipids and sucrose esters wraps the Sodium Selenite molecules, forming a protective matrix that allows the selenium to pass through the gastric environment unaltered, to be absorbed in the small intestine, without irritating the intestinal mucosa.
Health claims approved by the EFSA relating to selenium intake:
"Selenium contributes to the normal function of the immune system"
"Selenium contributes to the protection of cells from oxidative stress"
"Selenium contributes to the normal thyroid function"
"Selenium contributes to normal spermatogenesis"
"Selenium contributes to the maintenance of normal hair"
"Selenium contributes to the maintenance of normal nails"
Advantages
Applications

Maximum absorption and tolerability
Contains 0.3 % selenium
Does not interfere with the absorption of other minerals
Neutral taste
Suitable for vegans and vegetarians
Gluten-free
Lactose-free
GMO-free
GRAS certified by the FDA

Food supplements: softgel, capsules, tablets and sachets
Functional foods and drinks, including dairy products