An exclusive micronutrient enhanced by Sucrosomial® Technology to modulate the energy metabolism
UltraChrome is a new formulation with Sucrosomial® Chromium, containing chromium picolinate (9% chromium) ensuring improved absorption and greater bioavailability for a correct chromium intake.
Chromium is a mineral found in the human body in very small quantities. According to the reference values for nutrient and energy intakes for the Italian population, a suitable daily intake of chromium for adult males is 25 µg, depending on age group. However, it is important for various fundamental functions, as it contributes not only to the physiological metabolism of macronutrients, transforming carbohydrates, proteins and fats into energy for the body, but also helps to maintain normal glucose levels in the blood, which are "fuel" for the cells.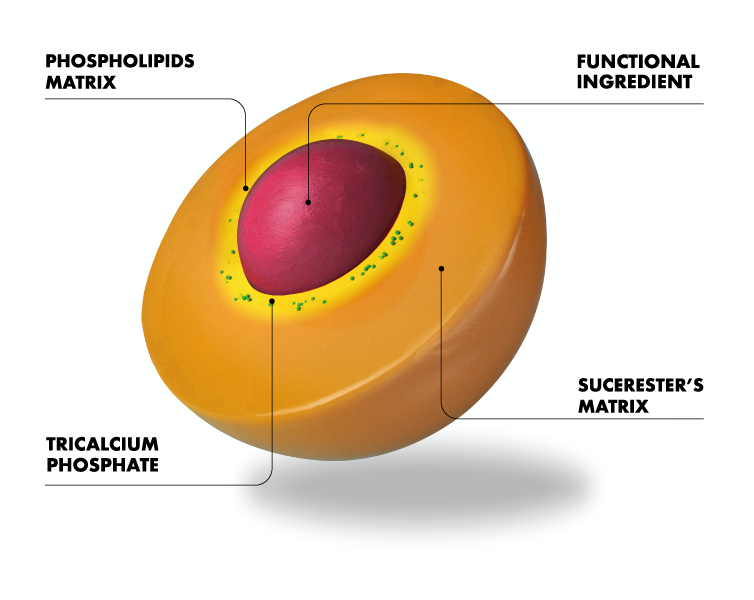 Sucrosomial® Chromium, created from the association of chromium picolinate and a phospholipid matrix (Sucrosome®), passes through the acid gastric environment unaltered and releases the chromium directly in the small intestine where it is absorbed and carried into the blood stream.
Find out more about the Sucrosomial® Technology.
Health claims approved by the EFSA relating to chromium intake:
"Chromium contributes to the maintenance of normal blood glucose levels"
"Chromium contributes to normal macronutrient metabolism"
Advantages
Applications

Maximum absorption and tolerability
Contains 9% chromium
Excellent palatability
Does not interfere with the absorption of other minerals and nutrients
Suitable for vegans and vegetarians
Gluten-free
Lactose-free
GMO-free
GRAS certified

Food supplements: capsules, tablets and sachets
Functional foods and drinks