UltraZin Sucrosomial® Zinc: for a correct zinc intake with no side effects
UltraZin is an innovative formulation with Sucrosomial® Zinc that ensures a correct intake of zinc with no side effects. UltraZin is encapsulated in a Sucrosomial® coating that allows the zinc oxide (Zn) to pass through the gastric environment without interacting with the mucosa or other nutrients and is then absorbed in the intestines.
The human body has no specific zinc reserves, and so this micro-element has to be taken regularly to maintain stable levels. The daily intake of zinc varies from 2 to 10 mg, depending on the age and any other special conditions, such as pregnancy and breast-feeding. Zinc is distributed in all tissues, particularly the muscles (60%), bones (30%) and skin (4-6%). It performs fundamental biological roles and functions, including the very important maturation of the immune system and protection of the body from infections. Furthermore, Zinc plays an essential role as an antioxidant, preventing lipid peroxidation and reducing the formation of free radicals.
However, when we talk of supplements, common zinc salts are associated with low absorption and a bad taste. Zinc absorption is drastically reduced, above all in the case of zinc oxide, an insoluble form of zinc with low bioavailability.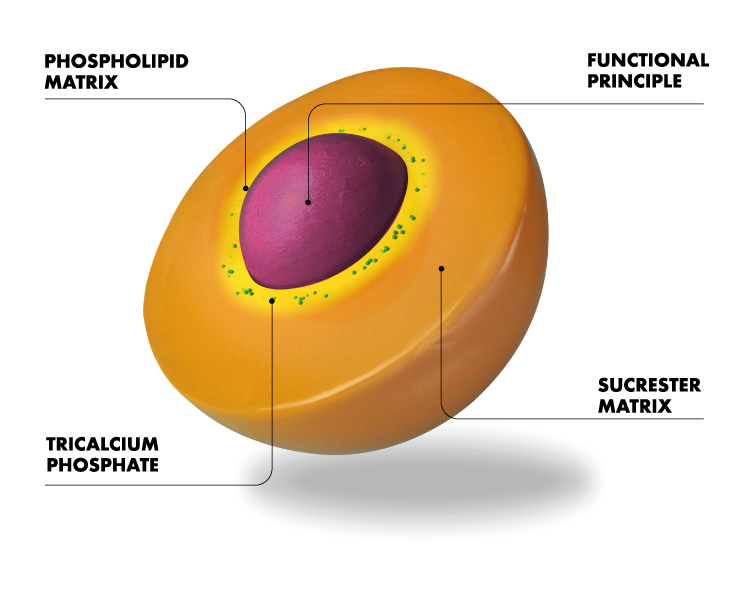 The new UltraZin Sucrosomial® Zinc patented and developed by Alesco, containing 42% zinc, with its protective phospholipid coating, passes through the gastrointestinal tract unaltered and is absorbed in the intestines. Moreover, this innovative Sucrosomial® matrix ensures high palatability.
Health claims approved by the EFSA relating to zinc intake:
"Zinc contributes to the normal function of the immune system"
"Zinc contributes to the protection of cells from oxidative stress"
"Zinc contributes to the maintenance of normal hair and nails"
"Zinc contributes to normal cognitive function"
"Zinc contributes to normal acid-base metabolism"
"Zinc contributes to normal carbohydrate metabolism"
"Zinc contributes to normal DNA synthesis"
"Zinc contributes to normal fertility and reproduction"
"Zinc contributes to normal macronutrient metabolism"
"Zinc contributes to normal metabolism of fatty acids"
"Zinc contributes to normal metabolism of vitamin A"
"Zinc contributes to normal protein synthesis"
"Zinc contributes to the maintenance of normal bones"
"Zinc contributes to the maintenance of normal skin"
"Zinc contributes to the maintenance of normal testosterone levels in the blood"
"Zinc contributes to the maintenance of normal vision"
"Zinc has a role in the process of cell division"
Advantages
Applications

Maximum absorption and tolerability
Contains a high concentration of zinc (42%)
Excellent palatability
Does not interfere with the absorption of other minerals and nutrients
Suitable for vegans and vegetarians
Gluten-free
Lactose-free
GMO-free
GRAS certified by the FDA

Food supplements: softgel, capsules, tablets and sachets
Functional foods and drinks